Student Power in Columbus, Ohio!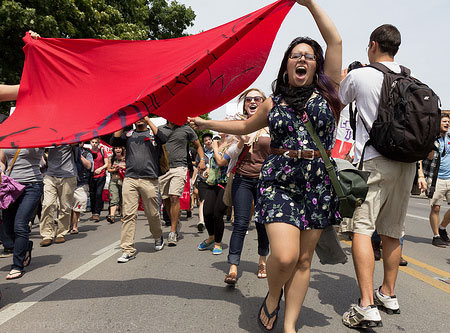 I've been in Columbus, Ohio, at the National Student Power Convergence since Friday afternoon. (My trip started with a van full of organizers trekking out from Boston for an epic 14-hour drive.)
The workshops have been fantastic, but as is often the case with these conferences, it's the people you meet, talk, laugh, and drink with that make it all worth the trip. Thankfully there was no shortage of phenomenal, inspiring student and youth organizers — at least 200 so far. Many of them are organizers at the top of their game (many with amazing victories under their belts, along with a host of USSA execs past and present), and others are just at the start of their journey.
Probably the most interesting part of this convergence is that it wasn't organized under the umbrella of a large national organization. These were students from across the country that coordinated and put together 5 days of programming based on what they perceived the needs of the current student movement to be. This manifests itself in a number of ways.
The planning process was the most transparent and welcoming of any I've ever seen. Let's do this more often (hooray for Google Docs!)
The call for programming was sent far and wide, and the resulting proposals have driven almost all the workshops and plenaries on the schedule (and due to the fact that there wasn't larger organizational forces at work, there's a wonderful diversity of topics).
The culture and tone of the convergence is pluralistic. We have a huge swath of the left here, from Obama fans, to CLASSE organizers from Québec, to newspaper-toting Trotskyists, to anarcho-communists: and because there isn't an overall ideological stance imposed on the convergence, there are a lot more contested spaces and interesting political conversations and minglings.
I presented my workshop this morning to a pretty packed room, and had a number of fascinating discussions during and afterward about how student power organizing is progressing on individual campuses.
There are still two more days to NSPC12, so join us in Columbus or watch us online: