What we can learn from Missouri students' epic win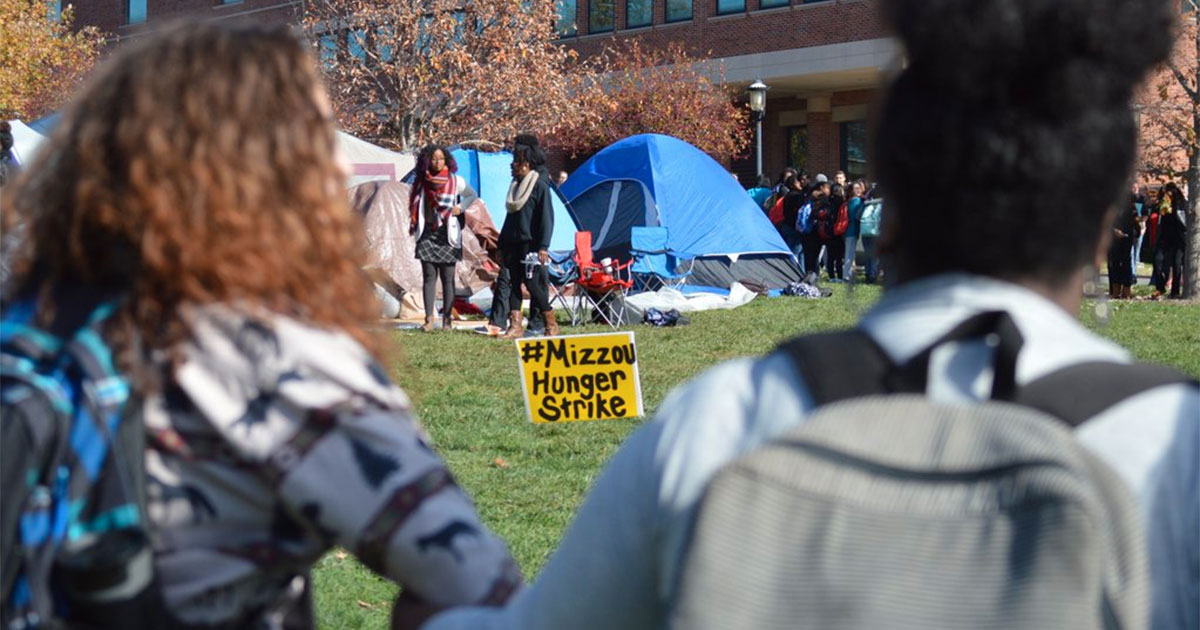 One could argue that Tim Wolfe's brief presidency at the University of Missouri lived — and died — by the football team.
Wolfe's selection as President in December 2011 came just days after UM-Columbia announced that it was changing its NCAA conference, leaving the Big 12 for the Southeastern Conference (SEC). Years of stagnant state funding was a big factor in the move, which cost quite a bit up-front but held the potential for significant revenues and increased broadcast royalties down the road. So far, the gamble has paid off: UM has garnered almost $10 million in profits from athletics programs in the first two years of SEC membership, the largest portion coming from football ticket sales.
Wolfe knew the power and importance of athletics to a large public university, and did everything he could to aggrandize it — including pushing a $72 million expansion of of the Tigers' football stadium. It turns out that UM football players knew their power too. On November 8, this iconic image was Tweeted out:
We're black. Black is powerful. Our struggle may look different, but we are all #ConcernedStudent1950 pic.twitter.com/obCjSWCFVY

— HeMadeAKing (@1Sherrils_2MIZZ) November 8, 2015
The very next day, Football Coach Gary Pinkel upped the stakes:
The Mizzou Family stands as one. We are united. We are behind our players. #ConcernedStudent1950 GP pic.twitter.com/fMHbPPTTKl

— Coach Gary Pinkel (@GaryPinkel) November 8, 2015
It's at this point that the mainstream media picked up on the story — as usual in the case of social movements and protests, media coverage started near the end, not the beginning. Very few cameras were around at the start of grad student Jonathan Butler's hunger strike. There were no reporters around to cover the months of painstaking face-to-face organizing work done by MU students, including the new group Concerned Student 1950. And UM's long history of being an institution fundamentally hostile to black students and workers was little more than background noise.
In the midst of a fall semester punctuated by racial slurs and intimidation against Black students, Concerned Student 1950 members disrupted UM's homecoming parade directly in front of President Wolfe's red convertible and reminded him of that history:
Jonathan Butler began his hunger strike on Monday, November 2, vowing to continue until Wolfe resigned or was forced out by the Board of Curators. All week he was joined at Traditions Plaza by a growing group of students and tents. By the weekend, momentum was clearly on the students' side. Undergrad student government president Payton Head (himself a victim of racial abuse on campus earlier this fall) was publicly in support, along with many college activist organizations, and UM's English department voted no confidence in Wolfe on Tuesday over a number of issues.
The details aren't clear over how the football team got involved, but as far as we can tell late last week a player met with Concerned Student 1950 members to see what the team could to to support Butler. Over the course of the weekend the rest of the dominoes fell: an awkward response from Wolfe to protesters at UM-Kansas City Friday night went viral; the football team and coaches came out against Wolfe, as did an official resolution by the SGA; late Sunday faculty members announced a walk-out of classes all Monday and Tuesday and promised a teach-in; two graduate student organizations, the Forum on Graduate Rights and the Coalition of Graduate Workers, called for a strike Monday and Tuesday; the Kansas City Star published a pointed editorial calling for Wolfe to step down.
Sunday evening, while 150 protesters in coats and tents vowed to occupy Traditions Plaza until Wolfe was removed, the University of Missouri's Board of Curators announced an emergency closed-door session for 10am the next morning. Wolfe announced his resignation late Monday morning. UM Chancellor Loftin will be gone from his post as of January 1. The Board also announced several new initiatives which, while seemingly drawn from Concerned Student 1950's list of demands, were for the most part vague and noncommittal.
For a detailed and much more comprehensive timeline of events, check out this Slate article.
While students didn't get everything they wanted and the struggle continues, the relative swiftness of victory here is worth examining. Some things that organizers got right:
1. They escalated their tactics. As support grew, students engaged in increasingly confrontational and risky actions.

2. They mobilized all sectors of the university. Student, athlete, faculty and staff organizations were contacted and included in their efforts and encouraged to take action.

3. They knew the political landscape they were working in. UM-Columbia is a two hour drive from Ferguson. Hunger striker Jonathan Butler visited Ferguson after Mike Brown's murder and was radicalized by the events he saw there and around the country. Black Lives Matter protesters over the past year have shown how to put members of the ruling class — even liberals — on the defensive. Reminiscent of the massive growth in Occupy Wall Street occupations across the country, BLM's strategies and tactics, even down to their chants, have spread organically from coast to coast. UM SGA Vice President Brenda Smith-Lezama has noted that the post-Ferguson era has seen a huge increase in the quantity and quality of campus organizing.

3. They knew the administration's pressure points, and pushed on them. The addition of the UM football team and coaches by all reports seems to be the straw that broke the camel's back. Football is without a doubt key to UM's financial future, from ticket sales to royalties to high-dollar alumni donations. The coaches turned out to be the layer of university administration easiest to pry away, and pry they did. This was a direct, serious threat to the the university's purse strings.
It's easy to imagine that in the absence of the football team's strike we would still see the struggle continuing with no clear end in sight. We'd likely see more no confidence votes, larger protests, additional hunger strikers, and perhaps a building occupation. While collegiate athletics has recently been in the news as student athletes fight for improved conditions, compensation, and even union recognition, the active injection of a team into a non-sports political issue is incredibly rare. Because this development was so unheard of and unexpected, the tone of campaign shifted immediately. Even the most cynical heads turned.
Sunday afternoon's striking visual of their coaches locking arms in solidarity meant that the administration's public unity was broken. The financial threat of a striking football team was something the administration and Board decided it simply could not bear. Saul Alinsky exhorted organizers to act outside their target's experience. The football strike is a textbook example of just that. With this in mind it's worth considering why so many student activists and groups are vehemently anti-sports, and whether their disinterest in campus athletics is actually a huge tactical mistake (spoiler alert: it is!).
In the coming days and weeks we'll hear more from students and faculty about this past week and the work that led up to it. It's incumbent upon us all to learn from their hard-fought victory as we continue our own struggles, and to support UM students as they continue to fight against white supremacy on and off campus.
UPDATE: Dave Zirin over at The Nation has pointed out that UM would have forteited $1 million if the football team had missed this weekend's game at BYU. Ouch.