Trustees: a Legion of Doom on every campus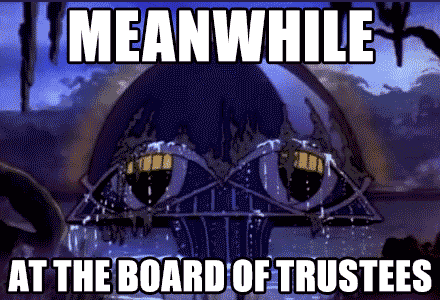 Boards of Trustees (or Regents, Visitors, etc.) are as old as American colleges themselves. The University of Virginia's initial Board of Visitors included two Presidents —Thomas Jefferson and James Madison — and a host of local and national politicians. Compared with UVa's all-white all-male board in 1819, the past two centuries haven't done much to improve diversity. Across the country, more than 2/3 of all trustees are men, and more than 3/4 are white. However, the occupational makeup of boards has changed considerably. Elected officials make up less than a tenth of trustees these days, while 49% categorized under the heading of "business" — people like business owners, executives, middle management, bankers, and the like. Only 15.5% are considered to have a professional background of "education."
And as one would imagine, the relative stature and importance of the trustees varies by the stature and importance of the institution. At my alma mater, Moravian College, their trustees comprise mostly local and regional business executives and attorneys. But join NYU's Board of Trustees and you'll find yourself in a much more exclusive club. There you'll rub elbows with people like Bloomberg empire co-founder Charles Zegar, the Vice President of UnitedHealth Group, and execs from a dizzying array of real estate and financial investment firms.
While the member selection process varies, the structural function remains the same. Trustee boards are an opening for universities to sink their claws into the ranks of the elite; naturally it's also an opening for the elite sink their claws into universities. University presidents gain access to new high-dollar donors, increasingly complicated endowment investments, and firm allies in the quest for increased administration size and control. Board members gain the social prestige that all charitable efforts by the 1% engender and an outlet for one of the favorite pastimes of the business class: dispensing advice for which their only qualification is their wealth. Even more important, they also get privileged access to the financial decisions of multi-million (sometimes multi-billion) dollar organizations. An investigation by the Chronicle of Higher Education found that one out of every four private colleges directly do business with their trustees, which can take the form of noncompetitive contracts for construction, financial investment of endowment funds. The Chronicle's example of St. Olaf College is particularly revealing:
At St. Olaf College, the Boldt Company has completed or is working on $125-million worth of campus building projects. In 2007-8 alone, the company was paid nearly $40-million by the college.

The CEO of the company, Thomas J. Boldt, a St. Olaf alumnus, served on its Board of Trustees for 12 years before stepping down last year (board members can serve up to two six-year terms). Both Mr. Boldt and college officials say there was no competitive-bidding process for the projects his company managed, although Paula Carlson, a vice president at St. Olaf and liaison to the board, says there is "always a review of the cost" of a project, to make sure it is reasonable.

Asked if the college might have been charged a lower price if others had been allowed to bid on projects, Mr. Boldt calls that a "hard question to answer" because of the complexity of the design-and-construction process. He says his company works closely with clients to make sure buildings fit their needs. St. Olaf, he adds, has been happy with the work that Boldt has done.
But the effects of corporate board members go beyond sweetheart deals. Boards have been the primary conduit for introducing market structures and practices into higher education over the past several decades, primarily through drafting budgets and selecting university presidents.
When boards occasionally overreach, their crisis of legitimacy, always simmering just below the surface, threatens to boil over. The crisis of legitimacy can be found in the campus cohabitation of both the autocracy of the Board and the vestigial faculty guild-democracy of academic life. Faculty members in many cases still elect their department chairs and deans and participate in all-faculty governing bodies, but are subject to presidents picked by unelected outsiders. This is not a tension found in corporate boards of directors because they pin their legitimacy to the shareholders they represent: there is no need for even a pretense of caring about the opinions of workers. Outside the scope of this post but worth looking into as a case study is Dartmouth's board, which saw a protracted fight over the proportion of seats nominated by alumni.
At last count, 70% of public universities had student trustees, compared to only 20% of private universities. Faculty trustees are much less common, only seen at 13% of public and 15% of private universities. Part of the reason for the dearth in faculty participation is due to state labor laws — generally speaking, if public university faculty are represented by a union, they can't take part in management.
Either university boards are dispassionate caretakers of an institution they have no strong ties to (the governance equivalent of a blind trust, and in the case of public institutions, ensuring prudent management of taxpayer dollars), or boards represent those who are affected by the decisions they make. The halfhearted attempt at many institutions to reach a "happy medium" with token constituent representatives has only drawn them further into controversy and general hatred.
Why is that? Because the rationale for adding faculty or student trustees to a board obliterates the rationale for keeping the rest. If the board admits it needs expertise that can only be found in campus constituent groups, we suddenly move from a question of "should the board be representative?" to "how representative should the board be?" Why couldn't the board made entirely of, for example, faculty representatives with a few token seats for outsiders with specialized expertise? Or entirely of students? Once the leak in the dyke is sprung, the end result only depends on the pressure exerted upon it.
None of this is news for trade groups like the Association of Governing Boards Of Universities and Colleges (AGB), which opposes the introduction of either student or faculty trustees. Their primer on student trustees makes several arguments against schools adding students to their boards, at least one of which is an argument we would use as well:
Creating a student trustee position may lead faculty, staff, alumni, and others to argue for a seat in the boardroom, and having numerous places set aside for specific constituencies could dilute the influence of the board's lay trustees.
AGB also posits what for them must be a terrifying, untenable situation: "since boards have the final say on student tuition, how can [student trustees] ethically vote on tuition issues if their student members are directly affected by board decisions?"
Not that, in truth, many boards should have reason to fear. When student trustees earn headlines, it's usually them acting against student interests. At Indiana University in 2012, a vocal student protest was held inside IU's Board of Trustees meeting due to a number of issues, first and foremost the simultaneous 5% tuition hike and 21% raise for IU's President the board unanimously approved the previous summer. After the students had ground the meeting to a halt more than once through the use of a people's mic (what one older trustee hilariously denounced as "the robotics"), the board chair deployed the only countermeasure he had, short of telling the police to haul them all out. He gave the floor to the Student Trustee, Cora Griffin, who told the protesters that the board had to get through its agenda for the day, "but there are certainly channels to speak with any of us," and reminded them that they "work very closely with student governments."
That same year at Ohio University, student trustee Allison Arnold voiced her support for a tuition hike and a raise for President McDavis. OU's two student trustees, who are non-voting members of the Board, both believed that "voting rights are unnecessary due to the good working relationship between the administration and themselves."
Arnold said that voting rights would be inappropriate because Student Trustees are consumers of the university and could confuse their student interests with those of the University. "If we're customers can we really be the management?" she said. Roden also pointed out that if voting rights were in place, Student Trustees could be harmed by students who dislike their decision making.

"Unlike us, students can't stand outside [the voting trustees] houses and picket them. They don't get backlash from professors and students… there's a safety issue," she said.
Safety on campus is of course incredibly important. I have never come across, however, any instance of a student's safety put at risk based on votes she or he has made (if people have, please post in the comments), and there are plenty of controversial votes that can and do occur in plain ol' student government. If safety were to become a problem for voting student trustees, the solution is to create a safer environment on campus, not to stifle student participation.
Those few student trustees who want to use their positions to make change are often confronted with confusing and opaque procedures, paperwork, and organizational structure. A friend of mine was a student trustee at a New England public university and described the roadblocks he encountered as soon as he was identified as a "troublemaker." Some of the roadblocks were simply unavoidable: for example, the gigantic binders of documents, resolutions, and meeting minutes each board member receives, usually a matter of days before the meeting, are impossible to navigate without the professional assistants and support staff most trustees have access to through their regular jobs. In my friend's case, it also meant procedural shenanigans on the part of the board chair to keep his proposals from being considered and ensuring he was assigned to the most inconsequential subcommittees and task forces.
The track record of student trustees should be enough to disabuse even the most reformist student activist of the productive potential of these positions. That isn't to say, however, that there aren't tactical advantages to be exploited. The position of student trustee can to a certain extent be a platform for popular dissent within board meetings and in the outside world, leak important information helpful to activists, and deny one more spot for students interested in selling out their classmates in exchange for a plum internship or resume boost.
Trustees are the group of people at a university that are at once the most powerful people on campus and also those least affected by how they exercise that power. They're the votes that matter when hiring and firing the President, raising tuition, and increasingly determining curriculum and research priorities. Sometimes organizers can play them against another player or institution on campus, but we should never forget which side they're on. Sadly, unlike the Legion of Doom, trustees and regents are much more competent in carrying out their plans. The task of foiling them remains with us.