The 2013 State of the Union Preview: Higher Ed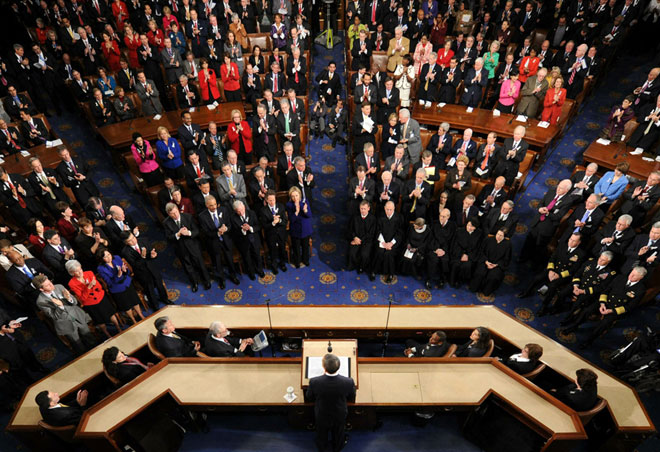 For Student Power will be covering the SOTU live, via Twitter and Facebook. Join in!
The annual State of the Union Address is a key aspect of the political spectacle of the modern Presidency. While the SOTU is actually a codified mandate in the U.S. Constitution, only in the 20th Century has it become a regular (and now annual) speech delivered to Congress — previously it had generally been a written document sent and read by a clerk. While the first broadcast SOTU was Calvin Coolidge's in 1923, via radio, the Address' central position in American political life was cemented with the first TV broadcast of Harry Truman's speech in 1947.
It's in these addresses that Presidents announce new policy goals, attempt to shore up public support, try out new narrative and rhetorical frames to shape the political landscape for the coming year, and in most cases, assiduously avoid going into detail.
When it comes to Higher Education, the U.S. Federal government plays a much more hands-off role than most other nations. Because Federal support of public higher education has always assumed state establishment, regulation, and control (starting with the Morrill Land-Grant Acts of 1862 and 1890), much of what can be done at the Federal level has to do with funding. What little rule-making is done is usually in the context of eligibility tests for funds (like the atrocious Solomon Amendment).
The usual suspects in Federal higher ed policy debates are loan and grant programs — Pell, Stafford, Perkins, PLUS, etc. Proposals often deal with them at one or both ends: how much the students get, and how much they have to pay back. While there is usually tweaking of the size of Pell grants or Stafford Loans, nobody expects them to approach the percentage of tuition cost that they once did. One modest improvement enacted in 2010 is that Pell grant increases are now automatic, and pegged to the rate of inflation + 1%. That being said, Pell grants are now limited to 12 full-time semesters (down from 18), and the maximum award of $5,500 will now only be automatically granted is your family income is below $23,000 (down from $30k). In addition, for graduate students, Stafford Loans will no longer be subsidized (i.e. accrued interest is no longer waived during your time in school or during deferment). Bad news for the students who need financial support the most.
However, the biggest policy shift over the past four years has been the expansion and refinement of the Income-Based Repayment Plan (IBR). For those who can enroll, IBR caps loan payments at a percentage of your income and forgives whatever's left on the loan after a certain number of years (notably this does not apply to private loans, which can be the harshest burdens of all). As of right now, for most with student loans, IBR is capped at 15% of your income over 25 years. Congress changed that, so starting in 2014 (and for a select few qualifying students, right now) the cap will be 10% of your income over 20 years.
One danger that looms on the horizon for higher ed is the potential importation of the horrendous corporate-style ed reform currently infecting K-12 policy across the country. Pushing universal standardized tests on all colleges was a dream of the Bush Administration, and similar moves are being attempted in at the state level. Be on the lookout for "accountability" being posited as a solution to every ill, from high tuition costs to low graduate employment.
Since this site is called "For Student Power" after all, I feel obligated to point out that issues of power never, ever come up in higher ed policy, and certainly never in a rhetorical event like a SOTU — except in the shallowest of forms, consumer power. Sure, we all rolled our eyes when Mitt Romney told students to "shop around" as a solution to the tuition and debt crisis. But how much better is Obama's vision? "Shop around — and here's a coupon, too." The closest he ever got to tackling tuition itself was the hilariously backward idea that universities should lower their tuition or face a reduction in federal funds and subsidies: a kind of punishment one could very well imagine a vulture capitalist like Romney coming up with.
There are lots of policies Obama could propose that actually would improve students' lives and create capacity for greater power. For example, he could mandate that student activity fees must be exclusively under the control of student-elected and -governed bodies (a hard-fought right that has steadily eroded away over the past few decades). Hell, that'd even help him and his party at the polls, since student governments and their larger associations often do a ton of voter registration and GOTV.
As for what Obama will say tonight, we can only guess — but to help us make an educated one, below are the relevant SOTU passages about higher ed for the last four years:
Because of this plan, families who are struggling to pay tuition costs will receive a $2,500 tax credit for all four years of college.

In the wake of war and depression, the GI Bill sent a generation to college and created the largest middle-class in history.

And half of the students who begin college never finish.

This is a prescription for economic decline, because we know the countries that out-teach us today will out-compete us tomorrow. That is why it will be the goal of this administration to ensure that every child has access to a complete and competitive education – from the day they are born to the day they begin a career.

We have made college affordable for nearly seven million more students.

And so tonight, I ask every American to commit to at least one year or more of higher education or career training. This can be community college or a four-year school; vocational training or an apprenticeship. But whatever the training may be, every American will need to get more than a high school diploma. And dropping out of high school is no longer an option. It's not just quitting on yourself, it's quitting on your country – and this country needs and values the talents of every American. That is why we will provide the support necessary for you to complete college and meet a new goal: by 2020, America will once again have the highest proportion of college graduates in the world.

I know that the price of tuition is higher than ever, which is why if you are willing to volunteer in your neighborhood or give back to your community or serve your country, we will make sure that you can afford a higher education. And to encourage a renewed spirit of national service for this and future generations, I ask this Congress to send me the bipartisan legislation that bears the name of Senator Orrin Hatch as well as an American who has never stopped asking what he can do for his country – Senator Edward Kennedy.
Still, in this economy, a high school diploma no longer guarantees a good job. I urge the Senate to follow the House and pass a bill that will revitalize our community colleges, which are a career pathway to the children of so many working families. To make college more affordable, this bill will finally end the unwarranted taxpayer-subsidies that go to banks for student loans. Instead, let's take that money and give families a $10,000 tax credit for four years of college and increase Pell Grants. And let's tell another one million students that when they graduate, they will be required to pay only ten percent of their income on student loans, and all of their debt will be forgiven after twenty years – and forgiven after ten years if they choose a career in public service. Because in the United States of America, no one should go broke because they chose to go to college. And it's time for colleges and universities to get serious about cutting their own costs – because they too have a responsibility to help solve this problem.
America has fallen to 9th in the proportion of young people with a college degree. And so the question is whether all of us – as citizens, and as parents – are willing to do what's necessary to give every child a chance to succeed.

Of course, the education race doesn't end with a high school diploma. To compete, higher education must be within reach of every American. That's why we've ended the unwarranted taxpayer subsidies that went to banks, and used the savings to make college affordable for millions of students. And this year, I ask Congress to go further, and make permanent our tuition tax credit – worth $10,000 for four years of college.

Because people need to be able to train for new jobs and careers in today's fast-changing economy, we are also revitalizing America's community colleges. Last month, I saw the promise of these schools at Forsyth Tech in North Carolina. Many of the students there used to work in the surrounding factories that have since left town. One mother of two, a woman named Kathy Proctor, had worked in the furniture industry since she was 18 years old. And she told me she's earning her degree in biotechnology now, at 55 years old, not just because the furniture jobs are gone, but because she wants to inspire her children to pursue their dreams too. As Kathy said, "I hope it tells them to never give up."

If we take these steps – if we raise expectations for every child, and give them the best possible chance at an education, from the day they're born until the last job they take – we will reach the goal I set two years ago: by the end of the decade, America will once again have the highest proportion of college graduates in the world.

One last point about education. Today, there are hundreds of thousands of students excelling in our schools who are not American citizens. Some are the children of undocumented workers, who had nothing to do with the actions of their parents. They grew up as Americans and pledge allegiance to our flag, and yet live every day with the threat of deportation. Others come here from abroad to study in our colleges and universities. But as soon as they obtain advanced degrees, we send them back home to compete against us. It makes no sense.

Starting this year, no American will be forbidden from serving the country they love because of who they love. And with that change, I call on all of our college campuses to open their doors to our military recruiters and the ROTC.
Jackie Bray is a single mom from North Carolina who was laid off from her job as a mechanic. Then Siemens opened a gas turbine factory in Charlotte, and formed a partnership with Central Piedmont Community College. The company helped the college design courses in laser and robotics training. It paid Jackie's tuition, then hired her to help operate their plant.

I want every American looking for work to have the same opportunity as Jackie did. Join me in a national commitment to train 2 million Americans with skills that will lead directly to a job. My administration has already lined up more companies that want to help. Model partnerships between businesses like Siemens and community colleges in places like Charlotte, and Orlando, and Louisville are up and running. Now you need to give more community colleges the resources they need to become community career centers -– places that teach people skills that businesses are looking for right now, from data management to high-tech manufacturing.

When kids do graduate, the most daunting challenge can be the cost of college. At a time when Americans owe more in tuition debt than credit card debt, this Congress needs to stop the interest rates on student loans from doubling in July.

Extend the tuition tax credit we started that saves millions of middle-class families thousands of dollars, and give more young people the chance to earn their way through college by doubling the number of work-study jobs in the next five years.

Of course, it's not enough for us to increase student aid. We can't just keep subsidizing skyrocketing tuition; we'll run out of money. States also need to do their part, by making higher education a higher priority in their budgets. And colleges and universities have to do their part by working to keep costs down.

Recently, I spoke with a group of college presidents who've done just that. Some schools redesign courses to help students finish more quickly. Some use better technology. The point is, it's possible. So let me put colleges and universities on notice: If you can't stop tuition from going up, the funding you get from taxpayers will go down. Higher education can't be a luxury -– it is an economic imperative that every family in America should be able to afford.

Let's also remember that hundreds of thousands of talented, hardworking students in this country face another challenge: the fact that they aren't yet American citizens.
---
For Student Power will be covering the SOTU live, via Twitter and Facebook. Join in!