Chicago Strike Ends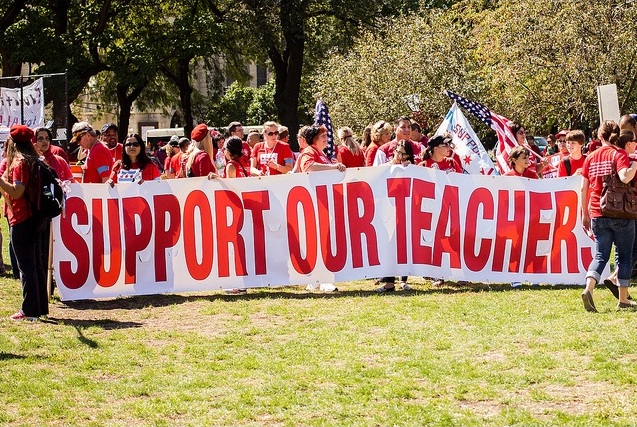 The Great Chicago Teacher's Strike of 2012, after one week, is over. Or as the business press put it, "finally" over.
Via Reuters:
Chicago public school teachers voted on Tuesday to end their strike and resume classes in the third-largest U.S. school district, ending a confrontation with Mayor Rahm Emanuel that focused national attention on struggling urban schools.

Some 800 union delegates representing the 29,000 teachers and support staff in Chicago Public Schools voted overwhelmingly to resume classes on Wednesday after more than two hours of debate.

"I am so thrilled that people are going back," Chicago Teachers Union President Karen Lewis said. "Everybody is looking forward to seeing their kids tomorrow."

Lewis, an outspoken former high school chemistry teacher, said the entire membership of the union will cast a formal vote in the next two weeks to ratify a new contract agreement.

The delegates ended the strike on their second attempt, having decided on Sunday to continue the walkout for two more days so they could review details of a proposed three-year contract with Emanuel.

Emanuel had to retreat from a proposal to introduce merit pay for teachers and he promised teachers that at least half of all new hires in the district would be from union members laid off by the closing of schools.
CTU has posted a handy summary guide to the biggest changes in the proposed contract.
The way this strike ended must be considered a victory, at least these days. The idea of unionized employees going out on strike and not being beaten is so far off our cultural radar, even modest concessions from Chicago Public Schools is something worth shouting from the rooftops.
Especially notable was the fact that the teachers ended the strike on their own terms. They could have struck longer if they wanted to — at the very least until the votes were in from all teachers — but CTU's House of Delegates knew when to end on a high note. Majorities of both the Chicago public and Chicago parents supported the strike, and they were smart to keep it that way.
Rahm may have gotten his teacher evaluation system (or at least a small part of it), but CTU got a clear and unambiguous victory. And given what a victory means for all of us, in these dark days of reaction and austerity, Rahm and those like him just lost a hell of a lot more than they realize.
A union goes on strike, and doesn't get blown to smithereens, literally or figuratively?
I could get used to this.