Sat, 07/11/2009 - 5:01pm —

Patrick
PROLOGUE
The scene is Tufts University, 2002. Graduate employees have been working tirelessly to unionize in the face of a hostile administration. Tufts Daily reports in February:
ASET sought collective bargaining rights through the United Automobile Workers (UAW), and filed a petition with the Boston office of the NLRB on Dec. 7. The group also created a website to argue their case.

In the Feinleib Lecture Hall yesterday, [University President Larry] Bacow led Tufts' faculty in a discussion about the unionization process. Saying that he was "not anti-union," Bacow insisted that this is not an issue of ideology but rather a question of "whether or not the UAW representing our graduate students here at Tufts will strengthen the graduate program."

Bacow was not weighing in on the debate for the first time. On the Tufts' website, he wrote that "I believe it would be a mistake for graduate students to unionize. The relationship between faculty member to graduate student is not one of employer to employee."
The NLRB's First Region office certifies on March 29th that an election can go ahead. Students finally get a chance to fill out their ballots and vote whether or not to form a union on April 24-25. Tufts immediately orders the ballots impounded while the administration files an appeal against the original NLRB ruling, contesting that the grad students are not protected by the National Labor Relations Act. Conveniently, by the time the case winds its way to the National Board (July 2004), it has swung far to the right thanks to Bush appointees, and it rules that graduate employees are primarily students and therefore ineligible to unionize. The ballots are destroyed. ASET, the Association of Student Employees at Tufts, releases a statement:
It's deplorable that the Labor Board, after a more than 2-year delay in coming to a decision, should issue such a clearly political decision in the middle of summer, when most graduate employees affected are away from campus. Now, thanks to Tufts' appeal—which impounded the ballots of our union election back in April, 2002—we join hundreds of thousands of other workers in this country whose rights are being whittled away and denied by the Bush appointed Labor Board.
~~~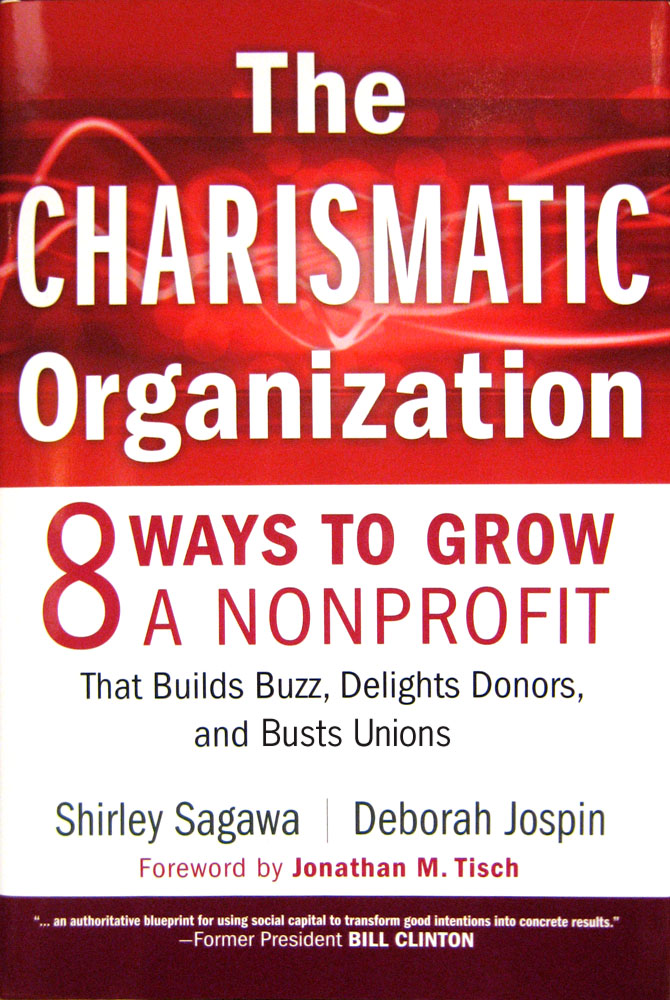 Fast forward to 2008. Deborah Jospin, with co-author Shirley Sagawa, release a fluffy non-profit management book entitled "The Charismatic Organization: Eight Ways to Grow a Nonprofit that Builds Buzz, Delights Donors, and Energizes Employees." Jospin is intimately involved in the running of Tufts University, so naturally it was one of the "charismatic" non-profit organizations profiled. A 1980 Tufts grad, she has been a board member of its University College of Citizenship and Public Service since its founding in 1999 (and became chair of that board in 2007). She's also been a member of Tufts' board of trustees since 2002.
The center-left thinktank Center for American Progress held a talk and book signing for "The Charismatic Organization" this past April (Sagawa is a visiting Fellow there). I had a chance afterward to question Jospin about the union-busting that happened on her watch, and whether she took a public or private stand on the issue. Unbelievably, all she could do was plead ignorance of the entire affair, despite the massive publicity surrounding the debacle and prominent mention of the union fight in the Boston Globe.
In the book, she writes glowingly of President Bacow, who first took reins in 2001. The graduate student union issue was one of his first major tests in office, yet Jospin makes no mention of it. Jospin writes (p.51):
When Lawrence Bacow became the president of Tufts University in 2001, he inherited three campuses, seven schools, an affiliated teaching hospital, ten boards of overseers at various levels of sophistication, and a board of trustees bruised by numerous internal fights. He found a university in which "nothing was broken but nothing was optimized."

[...]

According to Bacow, "The only two things that really matter in a university are great students and great faculty." For this reason, he defined Tufts' main job as "attracting, retaining, nurturing and supporting great students and great faculty."

[...]

By "departing from the tradition of egalitarian salaries," taking investment risks, and raising the standards for tenure and promotion, Tufts successfully competed for leading scholars from around the world.
Well we can certainly see he's no fan of egalitarian salaries! Bacow's dogged pursuit of every possible way to foil his graduate employees from unionizing must be on the whole a positive mark in Jospin and Sagawa's eyes. They simply don't see any conflict between the second and third paragraphs I quoted above: that "departing from the tradition of egalitarian salaries" (which without exception means tons of money for hard science and business/econ and an ever-whittling away at humanities) might be in fact the opposite of "nurturing and supporting."
This "progressive" whitewashing of the horribly anti-worker, anti-democratic splotch on Tufts' reputation speaks volumes about Jospin and Sagawa, and by implication the Center for American Progress.
~~~
EPILOGUE
Surprise, surprise! Tufts is now mobilizing against the unionizing efforts of its 1,200-strong staff employees:
Tufts University president Lawrence Bacow has issued a preemptive strike against a growing movement to unionize the school's 1,200 administrative, technical, and clerical employees, calling the efforts unnecessary.

The Tufts Employee Association, modeled after Harvard University's two-decades-old union for 5,000 clerical and technical workers, has vigorously tried to recruit members in recent months. But Bacow says the union is not sanctioned by the university, which currently only recognizes unions for its police and facilities staff.

"To say that we could work with the union should not imply that I think unionization . . . is a good idea. Far from it," Bacow wrote in an e-mail Thursday to Tufts employees. "I don't believe the formal process mandated by collective bargaining would help us address together the very real challenges Tufts faces in this economy."

[...]

In his e-mail to employees, Bacow stressed that his stance did not reflect a personal bias against unions.
Mmm... smell that charisma.