U.S. Social Forum - Workshops of Interest (UPDATED)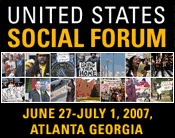 The first-ever United States Social Forum is rapidly approaching, going on from June 27 - July 1, in Atlanta.
For your viewing pleasure, here are some of the workshops most related to student power and student organizing in general (if there are some you see that you think should be added, throw a link in the comments section!). UPDATE: Dates and times have now been added to the list below. View the full (and really freaking crowded) USSF schedule here.
Thursday, June 28
Access to Higher Education: Breaking Down the Barriers
(United States Student Association, 3:30PM):
This workshop will bridge the gap between student and community organizers in an engaging discussion on how to strategize and mobilize around issues of higher education to win lasting change for all of our communities...
Campus Organizing Roundtable
(Democratizing Education Network, 3:30PM):
Higher education is in crisis, but those with the most to lose and the most to gain don't share knowledge, experience and resource enough. This roundtable will therefore provide a unique, much needed opportunity to strengthen our ties and build a movement to make education something that really is of, by and for the people...
Intergenerational Organizing and the New SDS
(SDS, 3:30PM):
Intergenerational organizing and dialog is key to movement building in the U.S. Often young people feel silenced and alienated, while elders to do not have the space to share knowledge and wisdom. We must learn from, and organize with, one another in order to have a clear sense of history and our own relationship to it.
Friday, June 29
Saturday, June 30